The beautiful place in Šolta
The oldest and the biggest place on the island, Grohote is the economic as well as the municipal centre (since 1811) of Šolta. Its narrow streets take you hundreds of years back in time, showing you the charm of this small Mediterranean place.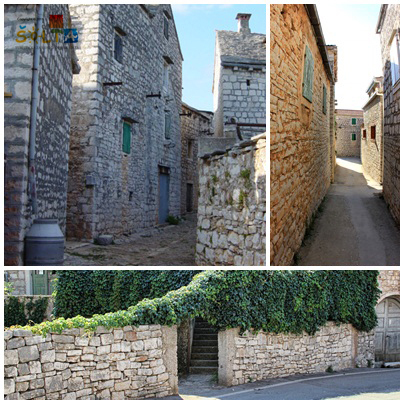 The locals work in agriculture, maritime or tourist industry.
Grohote is the main village on the island. Here you can find everything which you need for your everyday life.The market offers fresh fruits and vegetables almost all day long. If you want to buy fresh fish, it is recommended to go early in the morning to the market in order to find a nice piece. Also directly on the market square you can find a butchery, a bakery and small shops where you can buy your daily (international) newspaper and souvenirs. Until lunch time there are also stands where you can find local products like olive oil, liquors and honey. In the direct vicinity of the market there is a supermarket, few cafes and pubs, and cash machine (Bancomat) as well as a post office and a pharmacy. A culinary delight you can expect in the konoba Momcin dvor which offers excellent home cooking in a traditional setting: a couple of tables in an old courtyard of a stone house. This is not a typical restaurant where you order a la carte. You get served what they prepared for the day. If you have a special wish for lunch or dinner you also can pass by the day before and discuss the menu yourself. The konoba is situated also in one of the small alleys just behind the supermarket
Šolta, and Grohote in particular, are famous for its naive art painters, such as Eugen Buktenica, Dinko Sule, Marin Kalajzić.
Grohote is situated almost at the centre of the island, at the northeastern end of Sridnje polje, at the crossroads of the island's main road, which connects Stomorska in the east and Maslinica in the west, and the road leading to Rogač.
The early Christian basilica of Saint Stephen, which doubtlessly functioned as both parish church and baptizing church, is further proof that the first settlement in Grohote was of permanent character. Archeological finds of the baptesimal font prove that the Illyrian and Roman inhabitants adopted Christianity in the fifth and the sixth century.